Symposium 2020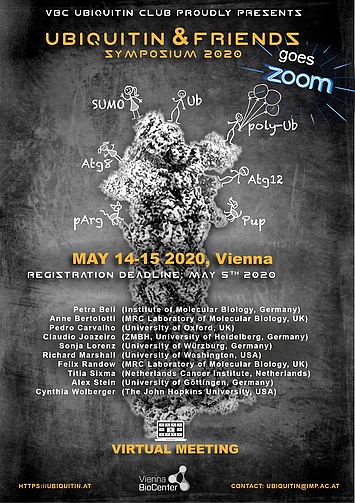 The Ubiquitin club emerged six years ago when a group of scientists at the Vienna BioCenter (VBC) fascinated by ubiquitin and ubiquitin-like modifiers decided to launch a joint interest group. Research at the VBC Ubiquitin Club encompasses the biology and mechanism of signaling proteins that are controlled by ubiquitin-like modifiers. As reflected by the "Ubiquitin & Friends" title, we are not only interested in ubiquitin marks, but also study other ubiquitin-like modifiers such as SUMO and its various roles in stress responses, Atg8 and autophagy, and other non-canonical ubiquitin-like protein modifications. To discuss the latest findings obtained in our groups as well as to talk about exciting findings from outside Vienna, we have joint group meetings on a bi-weekly basis. Currently, the Ubiquitin community comprises seven research groups, corresponding to about 35 scientists. Without a doubt, the "Ubiquitin & Friends Symposium" is the annual highlight of the VBC Ubiquitin Club.
This year we put together an exciting program that covers various areas in the ubiquitin field, ranging from the structural insight of the molecular machines involved in proteostasis to various biological pathways such as autophagy, immune signaling and protein quality control.
Due to the pandemic, Ubiquitin symposium will be held virtually via Zoom. Nevertheless, similar to the previous meetings, we will maintain a personal, family-like atmosphere, giving each participant ample opportunities to discuss her/his research with colleagues, friends, and senior scientists; all fascinated by ubiquitin and friends. We think this virtual meeting will also offer unique opportunities. We will have a chance to share our exciting discoveries with up to 500 participants from all over the world. We will have discussion sessions with the invited speakers to facilitate networking and scientific exchange. Finally, there will be an exciting Podium Discussion on "Publishing in 2020", where experts including the ASAPBio Executive Director Jessica Polka, will discuss the latest developments and initiatives in Scientific Publishing.
We look forward to welcoming you,
The organizing committee
---
---